Mother's Day is just around the corner and I hate to admit it but if I don't drop at least a few hints to the Hubby he would probably get me some crazy gift! Okay Okay, I know that it isn't all about the gifts,
but
1. He will buy one no matter what (such a thoughtful Hubby I have)
and
2. I would rather lead him in the right direction than have him spend money on something I will never use. So with that said I will give you guys a little peek into what I would
LOVE
to receive this Mother's Day from my Hubby. I just so happen to have my little heart set on a really relaxing looking
Massage Kit
from
EdenFantasys.com
. Now before anyone gets their panties bunched up....yes
of course
I realize that they are known for their
adult toys
but the truth of the matter is...they have
SO
much more to offer than just *gasp*
sex toys
. Besides doesn't a nice foot massage sound amazing after a long day of running around taking care of Mommy and Wife duties!?!
Does your Hubby buy you a gift on Mother's day as well? What are you hoping to receive?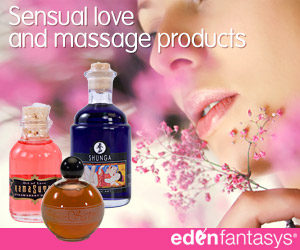 Disclosure: I wrote this post on behalf of Eden Fantasys and I am eligible to receive a gift card for my efforts. All opinions are 100% My own and as always never influenced in any way. No other form of compensation has been received for this post.